Sauteed Tatsoi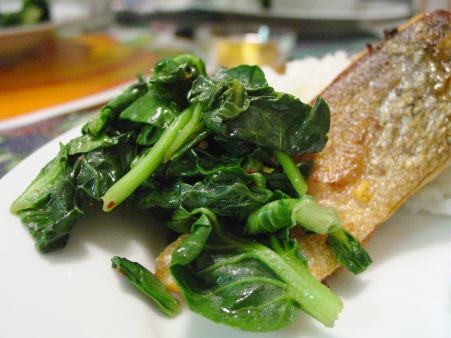 We first try this new green (for us) as part of an asian-style meal. We purchased tatsoi, an asian dark green vegetable, at the Baltimore Farmer's Market the day before. We cook it as we do spinach, in a little oil until just wilted. Sesame oil and hot pepper flakes complement this green nicely.
Ingredients
The most time-consuming part of this side dish is washing the tatsoi. We have about six cups of tatsoi. We put about 2 cups of leaves into the salad spinner and fill with water. We lift out the colander part of the spinner and discard the water. We repeat this a few times and then put the leaves into the bowl of the spinner and fill with water. We rinse out the colander and lift the tatsoi into it. We discard the water and see if it is clean. We repeat until the water is clear and the leaves no longer have visible dirt. We then spin dry and put in a resealable plastic bag (since we cleaned the tatsoi in the afternoon and needed to refrigerate). We repeat the washing process adding another 2 cups of leaves into the salad spinner until all the tatsoi is washed.
When our dinner is almost ready, we quickly saute the greens. We add 1 teaspoon of canola oil to a large pan and heat. When hot, we add the tatsoi, quickly tossing with tongs so all of it fits in the pan. After a few minutes the tatsoi is wilted. We remove it to a serving dish and toss with the teaspoon of sesame oil and sprinkle with hot pepper flakes.