Yogurt Pancakes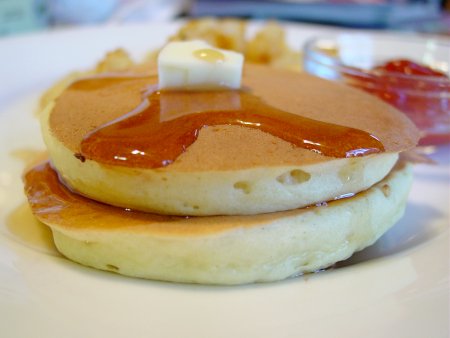 Yogurt serves as a nice substitute for buttermilk in these pancakes. They might not be
buttermilk pancakes
, but they get nice and thick and taste great.
Ingredients
2

cup

all-purpose, unbleached

flour

4

teaspoons

baking powder

2

tablespoon

sugar

½

teaspoon

salt

2

eggs

1⅔

cups

plain low-fat organic

yogurt

⅓

cups

skim

milk

chocolate chips
We pre-heat the griddle to 375 degrees.
In a large bowl, we combine the dry ingredients and mix them well.
In a medium-sized bowl, we beat the eggs slightly with a fork. In a large measuring cup, we mix the yogurt and milk, which are then added to the eggs. After stirring, we add the egg/milk/yogurt mixture to the dry ingredients and stir with a wooden spoon until just combined. We leave some small lumps in the batter so that we don't overmix the batter.
We spoon ¼ cup of the batter onto the griddle for each pancake. For those pancakes that will become chocolate chip pancakes, we immediately distribute the chocolate chips in the batter before it begins to get heated.
When the edge of the pancakes begin to harden (there aren't many bubbles as in other pancake recipes), we flip the pancakes. We cook the opposite side for about another minute and serve immediately with butter and maple syrup.