Quick Strawberry Sauce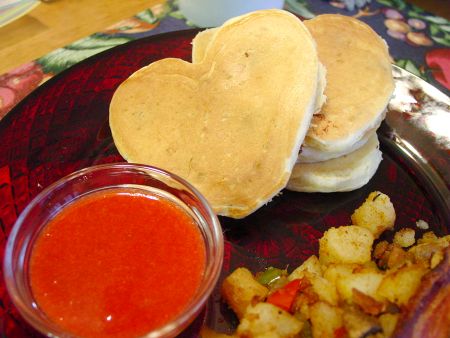 We make a quick sauce for pancakes using frozen strawberries. We have seen Sara Moulton make dessert/brunch sauces on her cooking shows and she has a couple of raspberries sauces in her new book. This is an easy sauce using pantry/freezer ingredients. We do not add much sugar to the sauce since we serve the pancakes with powdered sugar and maple syrup, so adjust the sugar accordingly.
Ingredients
We start by placing the frozen strawberries into a measuring cup. We pour these into our food processor and start pureeing. When there aren't any big chunks of strawberries, we add the lemon juice and the sugar and puree some more. We taste – it's a delicious strawberry ice (our son loves it!).
We place the icy pureed mixture back into the measuring cup and microwave it for 30 seconds. We stir and when it is smooth we serve.