Penne with Vodka Sauce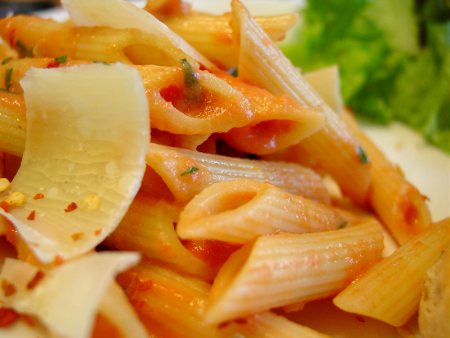 We have to confess that we have not made this or even eaten this before. Robin's italian-american family did not cook with cream or even with much alcohol. We were inspired from an episode of "Lidia's Italian-American Kitchen" on
PBS
. We did not have any measurements for the ingredients so we consulted Jeanne Lemlin's "Vegetarian Classics", and made a few adjustments. The result is a delicious, elegant, yet easy, pasta dish.
Ingredients
⅓

pound

penne

pasta

½

tablespoon

extra-virgin olive

oil

2

cloves

garlic

1

28 ounce can

whole peeled, organic

tomatoes

(Muir Glen)

pinch

hot pepper flakes

2

tablespoons

vodka

kosher

salt

2

tablespoons

fresh italian leaf

parsley

2

tablespoons

heavy

cream

Parmigiano-Reggiano

cheese
We start by putting a large pot of water on medium heat for the pasta and putting our saute pan on the stove. We put the olive oil into the pan and add the garlic. We turn on the heat to medium-low and gently cook for a few minutes. While the garlic is getting warmed, we wipe the can of tomatoes clean and open. We remove four of the whole peeled tomatoes and place them in a large measuring cup. Using our immersion blender, we puree, yielding about 3/4 cup. We add some of the tomato liquid from the can to make it one cup. We reserve the rest of the can of tomatoes in a resealable plastic container in the fridge for another time. When the garlic starts to sizzle but still has no color, we add the red pepper flakes, stir until we can smell both the hot pepper and the garlic and then add the tomatoes. We raise the heat to medium and bring the mixture to a boil. We add the vodka and a pinch of salt and simmer uncovered for about 8 minutes over medium-low heat.
Meanwhile, when the water is boiling for the pasta, we add the penne, and some salt, and stir. We cook according to the package directions.
When the pasta is almost done, we chop the fresh parsley and add most of it to the sauce (we reserve some to garnish). We also add the cream and lower the heat, the sauce is ready. We drain the pasta when done and add it to the sauce. We stir to coat well and grate some parmesan into the pan using our microplane grater. Using our peeler, we shave some curls of parmesan onto a small plate. We serve immediately sprinkled with the reserved parsley, parmesan curls, and red pepper flakes.