Yellow Rice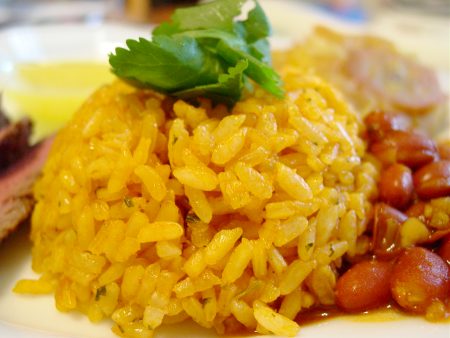 Annatto seeds provide a wonderful color to this rice. We experiment with the amount of the traditional ingredients and it works out well. Next time though, we will double the
sofrito
since it really disappeared in the large quantity of rice.
Ingredients
We start off by making the annatto oil. In a small pot, we heat the oil and annatto seeds over medium heat. When it starts to sizzle, we lower it and cook gently for about 10 minutes. We turn off the heat and let it sit for another 5 minutes. Using a fine strainer, we strain the oil into a medium pot and discard the seeds.
We heat the annatto oil over medium heat and add the sofrito and sliced onion. We cook for a couple of minutes and then add the garlic. We stir for 30 seconds and, when we can smell the garlic, we add the sauce, cumin, coriander, water, rice, a good amount of salt, and pepper.
We boil for three minutes and then lower the heat, cover, and simmer for about twenty minutes. We want all the liquid to be absorbed and the rice to be tender. We fluff it with a fork and cover it again for a few minutes.
We serve the rice with our latin-style meal.