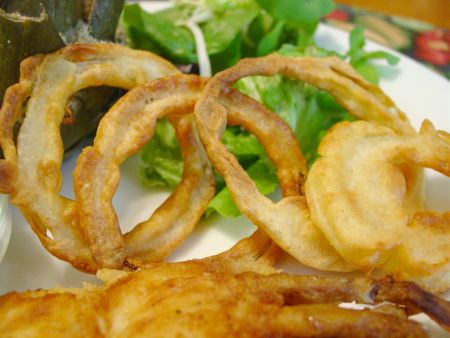 These "healthier" onion rings are inspired from a recent Sara's Secrets show. They are pan-fried in a batter, rather than deep-fried, and then baked in the oven to finish cooking. They are crispy and salty on the outside, and tender and sweet on the inside.
We start by pre-heating the oven to 450 degrees. In a medium-sized bowl, we beat the egg white with a whisk until a little frothy. Then, as we continue to whisk, we add the buttermilk, ¼ cup of the flour, cayenne, a pinch of salt and some black pepper. When the batter is nicely combined and free of lumps, we set it aside to prepare the onion.
We slice the onion into ¼-inch-1/3-inch slices and then separate the slices into rings. We reserve the small inner parts of the slices in a bag for the refrigerator. We have a total of 22 rings. We pour the rest of the reserved flour into a small bowl, season it with salt and pepper, and then get a dinner plate ready covered with paper towels.
We add some oil to our nonstick pan to cover the bottom of the pan, about ¼ inch, and heat over medium heat. When the oil is hot, we dip 5 rings into the flour, and then into the batter, turning to coat well. We use our hands which gets messy so we keep washing them between batches.
We gently put the rings into the oil, one at a time, and cook for about 1 minute. We turn them with our heat-safe rubber spatula and cook for another minute or so. We want the rings golden. We remove them to the paper-towel-lined plate and sprinkle with salt. We put 5 more rings into the flour and then the batter and repeat the frying.
We transfer the already cooked onion rings to a parchment lined rimmed cookie sheet. When all of the rings are browned, we place the cookie sheet into the oven and cook for 5 minutes. We turn the onion rings with tongs, and cook for another few minutes until they are crispy and nicely browned. We generously sprinkle them with salt and serve.