Beer-Battered Fried Onion Rings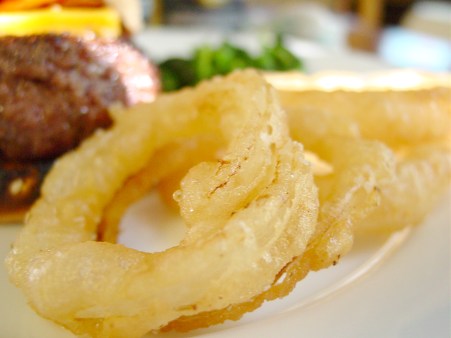 These are delicious, light, crispy, onion rings. In addition to flavor, the beer adds an effervescence to the batter, making them airier. Just wonderful!
Ingredients
vegetable

oil

1

large

yellow

onion

2

cup

all-purpose

flour

1

bottle

beer

(Bass Ale)

kosher

salt
We start by putting a cookie sheet in the oven and pre-heating the oven to 250 degrees. We put our dutch oven (a deep heavy pot) on the stove and put about an inch and a half of oil in it for frying. We turn on the heat to medium-high and put a candy thermometer into the oil. We want the oil to reach 375 degrees to start frying.
We slice the onion into 1/4-inch slices and then separate the slices into rings. The small inner parts of the slices we reserve in a bag for the refrigerator. In a large bowl we sift the flour and measure out 2/3 cup of beer. We add this slowly to the flour, whisking, until the batter is smooth. We add a little more beer to make it the consistency of pancake batter (the rest of the bottle we drink of course!). We stir in a pinch of salt. We get a dinner plate ready covered with paper towels.
When the oil is at 375 degrees, we put 5 rings into the batter, turning to coat well. We gently put the rings into the oil, one at a time, and cook for 1 minute. We turn them with our chinese strainer and cook for another minute. We want the rings golden. We remove them to the paper-towel-lined plate and sprinkle with salt. We put 5 more rings into the batter and when the oil it at 375 degrees we repeat the frying. We transfer the already cooked onion rings into the oven on the cookie sheet as each batch of rings gets done. In the end we have about 30 delicious onion rings!