Quick Buttermilk Biscuits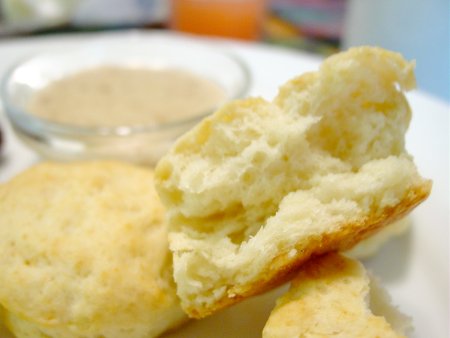 We are inspired by Jean Anderson's "Doubleday Cookbook" to make a one-bowl biscuit that does not need to have the fat "cut-in" by hand or with the food processor. They are light and tasty, delicious with butter or a
milk gravy
.
Ingredients
2

cups

all-purpose

flour

2

teaspoons

double acting

baking powder

¼

teaspoon

baking soda

¾

teaspoon

fine

salt

⅓

cup

canola

oil

¾

cup

buttermilk
We begin by pre-heating the oven to 475 degrees. Over a large piece of wax paper, we sift the flour with our fine strainer. Using a spoon, we measure 2 cups of the sifted flour into dry measuring cups and pour it into the strainer over a large bowl. The remainder of the flour on the wax paper we put back in the flour canister. We add the baking powder, baking soda, and salt to the strainer and then sift again into the large bowl. We make a well in the center of the flour with a dry measuring cup.
In a large measuring cup we pour the oil. We add the buttermilk to the measuring cup and without stirring pour into the well in the flour. We mix briskly with a fork until the dough comes together. With our hands, we knead the dough about 10 times inside the bowl until it is nice and smooth. We turn it out onto a large cutting board, cover with a piece of wax paper, and flatten with our hands until it is about ½ an inch thick. Using the top of a small juice glass, we cut out 2-inch biscuits and place them on a cookie sheet. When we cannot cut anymore with the glass cutter, we reform the dough a couple of more times, until we have 16 biscuits.
We bake the biscuits for 12 minutes until they are lightly browned and serve them warm.