Breakfast Sausage Gravy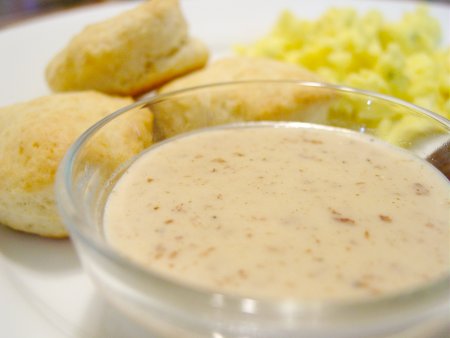 We make a simple sausage milk gravy after cooking breakfast sausage to be served over
biscuits
. We were first introduced to a "B & G", short for biscuit and gravy, by Chris' grandfather. This version brings back wonderful memories.
Ingredients
12

ounces

sausage

¼

cup

Shake & Blend

flour

(Pillsbury)

2

cups

2 percent

milk

salt & pepper
We begin by pre-heating the oven to 250 degrees. Then we heat a pan and add the sausage links with ¼ inch of water. We cook over medium heat, turning often, until the liquid has evaporated. Then we continue to cook until browned all over. We want the links to be cooked through and this takes about 15 minutes.
When the sausage is done, we remove them from the pan and put them on a paper-towel lined plate. We then keep the sausages warm in a glass pie plate in the oven while we start to make the gravy.
The sausage released about 3 tablespoons of fat. We add the flour, lower the heat to medium-low, and cook the flour for about 4 minutes stirring constantly with our flat whisk.
Meanwhile, we heat the milk in the microwave for a minute. We add the milk, slowly, and scrape up the browned bits on the bottom of the pan. We want the gravy to be lump-free, so we try our best to stir constantly.
We add salt and pepper and, after the gravy comes to a boil, we simmer gently for about 5 minutes. It is thick, free from lumps, and nicely seasoned.
We serve the gravy over biscuits with the sausage on the side.