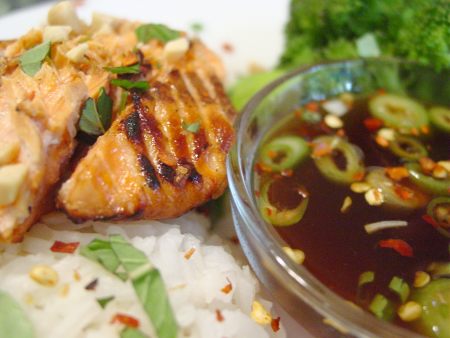 We quickly marinate salmon fillets, today we are lucky to have seasonal wild salmon, with thai flavors and grill for a delicious main course. It is also wonderful cold the next day on a salad.
We start by pre-heating the oven to 325 degrees to lightly toast our peanuts. We put the peanuts on a parchment-lined cookie sheet and prep all our marinade ingredients while we wait for the oven to get hot. On our cutting board, we prep the ginger and garlic. The scallions are rinsed and trimmed and then sliced yielding 3 tablespoons of light and dark green pieces. When our oven "beeps", we bake the peanuts for a couple of minutes. We want them fragrant and lightly colored. The cookie sheet is removed to cool.
In a 1-cup glass measuring cup, we combine the fish sauce, soy sauce, sugar, ginger, and garlic. We lean on our limes to get the juices flowing and cut them in half. We squeeze ¼ cup of juice into the measuring cup and wedge the other half of lime to be served with dinner. The red pepper flakes and scallions are added and the marinade is stirred. We pour half of it into a bowl to be divided and served with dinner as a sauce and the rest is for the marinade.
We remove the salmon from the fridge, rinse it, and pat it dry. The skin is on, but we decide to remove it tonight to help the marinade penetrate. We check for bones and cut off the thin tail piece for the kids. The small piece is set on a plate, covered with plastic wrap, and refrigerated (un-marinated). We place the rest of the salmon in a resealable plastic bag and add the marinade. We seal the bag and refrigerate on a plate for about 15 minutes, along with the reserved bowl of sauce.
After we clean up for a few minutes, we turn on the grill and pre-heat it for 10 minutes. When the grill is hot enough, we remove the salmon from the marinade (discarding the marinade bag), pat the salmon dry with paper towels, and rub with the oil and a little freshly ground pepper. We do the same with the piece for the children. We add the salmon to the grill flesh-side down and cook for about 4 minutes on the first side. We flip over with tongs and cook for another 4 minutes. We want the salmon just cooked through.
Meanwhile, we chop the toasted peanuts coarsely and then the herbs. The herbs are added to the reserved sauce. The sauce is divided into small prep bowls for each person.
When the salmon is cooked, we remove it to a serving plate. The salmon is served sprinkled with the peanuts, along with small prep bowls of the sauce and lime wedges.