Grilled Salmon Teriyaki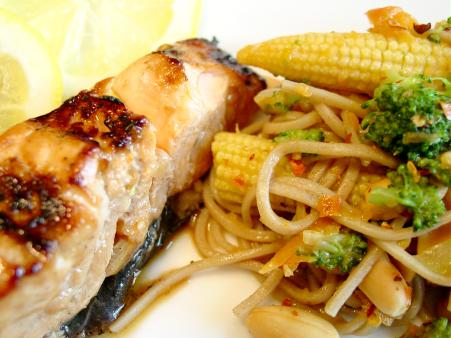 We marinate the salmon in this recipe with a little soy sauce to give it a mild asian flavor. Grilling the marinated salmon carmelizes the sugar in the marinade, giving it a very tasty coating.
Ingredients
1½

pounds

fresh fillets

salmon

1

cup

light

soy sauce

1

tablespoon

sugar

2

teaspoons

fresh

ginger

2

cloves

garlic

4

teaspoons

lemon juice

for grill

oil
We begin about an hour before we want to eat. In a 1-cup glass measuring cup, we combine the soy sauce and sugar and heat for about 30 seconds in the microwave. We stir well to dissolve the sugar. We add the garlic and ginger and refrigerate for about 15 minutes.
When the marinade is cool, we add the lemon juice. We rinse the salmon fillets and cut them into 4 portions. We place them in a resealable plastic bag and pour on the marinade. We seal the bag and refrigerate on a plate for about 30 minutes.
We heat our oiled grill. We remove the salmon from the bag, pat dry with paper towels, and when the grill is hot enough, we add the salmon skin-side down and cook for about 4 minutes on the first side. We flip over with tongs and cook for another 3-4 minutes. We want the salmon just cooked through.
Meanwhile, we pour the marinade into a pot and boil for a few minutes to be served on top of the salmon.