Bacon-Cheddar Burgers with Horseradish Sauce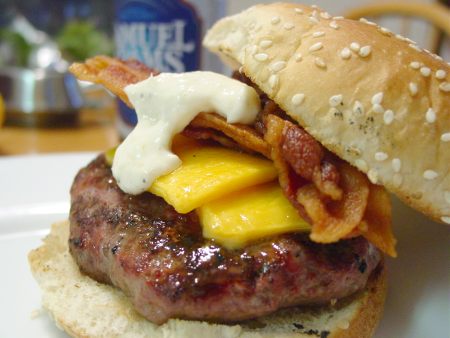 We are inspired by a burger we always get at Cheeburger Cheeburger to create our version using lean ground sirloin. Crisp bacon, melted cheddar cheese, and sharp horseradish sauce complement a simple grilled hamburger.
Ingredients
3

slices

bacon

6

slices

extra-sharp cheddar

cheese

4

teaspoons

creamy style

horseradish

2

teaspoons

light

mayonnaise

(Hellmann's)

1

teaspoon

milk

salt & pepper

15

ounces

ground sirloin

beef

3

sesame

hamburger buns

ketchup
For easy cleanup, we cook our bacon between pieces of paper towel on a dinner plate in the microwave. It takes about 5 minutes to get it to the desired doneness with our microwave.
Meanwhile, in a prep bowl, we combine the horseradish, mayonnaise, milk, some salt, and freshly ground pepper. We stir and taste for seasoning. We set this on the table.
We turn on our gas grill and allow it to heat up.
We put the ground sirloin into a bowl and with clean hands add a good amount of salt and freshly ground pepper. After mixing the meat and seasonings, we divide it into four balls. We flatten each ball into a good-sized hamburger patty.
We place the patties on the grill and cook on the one side for four minutes. We flip over with tongs, add the cheese, and continue to cook for another 3-5 minutes, depending on how well done we want the burgers. We serve the hamburgers on sesame buns with ketchup, the cooked bacon, and horseradish sauce.