Balsamic Dressed Tomato and Mozzarella Salad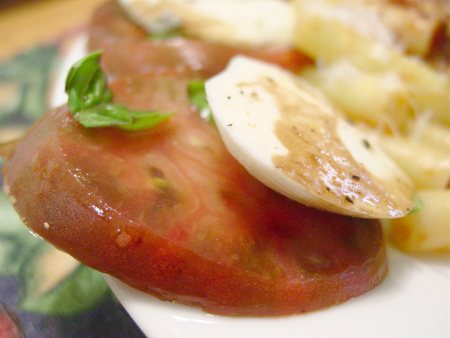 When tomatoes are at their best, not much needs to be done with them. We combine the classic basil, tomato, and mozzarella together and top with a light balsamic vinaigrette for an easy, quick salad. We like the combination with the balsamic dressing, although when we discussed it with Robin's grandmother, she said that we should have only used olive oil. We'll try it that way next time.
Ingredients
6

slices

large heirloom

tomato

salt & pepper

6

leaves

fresh, large

basil

6

slices

fresh

mozzarella

1

teaspoon

balsamic

vinegar

2

teaspoons

extra-virgin olive

oil
On a serving plate we lay out the tomato slices. We season generously with salt and pepper. We tear the basil onto the tomato slices. Instead of slightly overlapping the mozzarella on top of the tomatoes around the plate, we simply top the tomatoes with the mozzarella. We drizzle with the vinegar and oil and serve.