Roasted Pepitas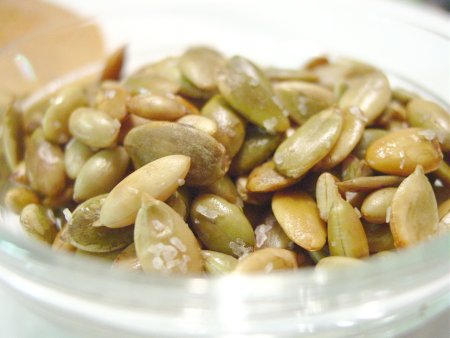 Pepitas are Mexican pumpkin seeds, they are green in comparison to other pumpkin seeds, and they are sold raw or salted. We purchased the raw ones since we have hopes to use them in Mexican sauces, but here we simply roast them with oil (we use olive oil but canola would be great) and salt to eat as a snack. They are addictive!
Ingredients
½

cup

raw

pepitas

½

teaspoon

extra-virgin olive

oil

kosher

salt
We preheat the oven to 400 degrees.
In a bowl, we combine the pepitas with the olive oil and mix with a fork. We sprinkle on ½ teaspoon of salt and again toss with the spoon. We spread the mixture on a parchment-lined cookie sheet, trying to be sure all the seeds are in one layer.
We bake in the preheated oven for 5 minutes until fragrant and lightly browned. We sprinkle with more salt and, using the parchment paper, pour out onto a dinner plate to cool.