Quick "Stuffed" Artichoke Hearts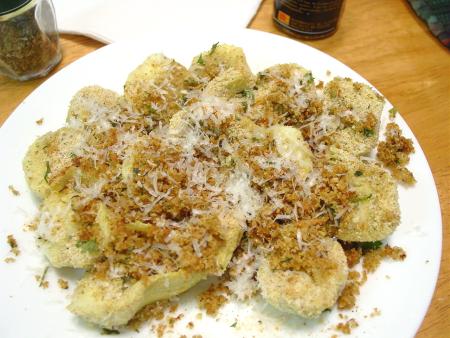 We absolutely love "stuffed artichokes". The last time we made them we had leftover bread stuffing. We froze it in a resealable plastic bag and we use it tonight to top drained canned artichokes for a quick side dish.
Ingredients
We start by preheating the oven to 425 degrees and removing the artichoke stuffing from the freezer. We halve the artichoke hearts lengthwise, squeeze out as much water as possible, and place them cut-side up in a 9-inch glass pie plate. We sprinkle the stuffing both on top and around the pan. We drizzle the bread crumb mixture with a little olive oil and add some freshly ground black pepper and a small amount of salt.
We bake the artichokes in the preheated oven for about 10 minutes. We just want the bread crumb mixture to brown and the hearts to be heated through.
We grate some Locatelli on top, with our microplane grater, and serve.