Honey Mustard Glazed Acorn Squash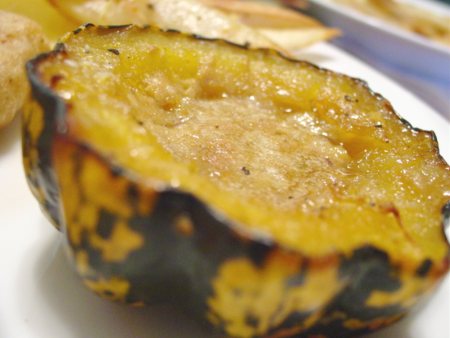 We are inspired by Sara Moulton to vary our
roasted acorn squash
recipe, which is sweetly filled with maple syrup and brown sugar, to an interesting honey and Dijon mustard filling. The combination of the sweet and savory is delicious with this tender winter squash, and perfect for those who do not want a very sweet side dish.
Ingredients
salt & pepper

1

medium

acorn

squash

½

tablespoon

salted

butter

2

teaspoons

Dijon

mustard

(Grey Poupon)

2

tablespoons

clover

honey
We preheat the oven to 425° F.
We rinse and pat dry the squash. Carefully, we halve crosswise, and then place flesh-side down on a parchment lined cookie sheet.
We cook for 30 minutes and, with tongs, remove from the oven to our cutting board. We scoop out and discard the seeds. We remove the stem on one of the halves so that both pieces are level. We divide the glaze ingredients in the two halves and sprinkle with salt and pepper. We continue to cook for another 30 minutes until tender.
We serve the squash halves whole, filled with the yummy glaze.