Roasted Acorn Squash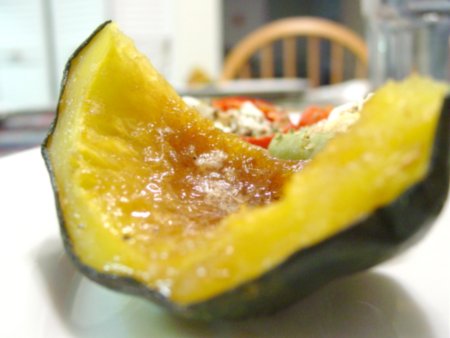 We roast halves of acorn squash and flavor with brown sugar and maple syrup for an easy fall side dish.
Ingredients
1

medium

acorn

squash

½

tablespoon

salted

butter

1

tablespoon

dark

brown sugar

1

tablespoon

grade B

maple syrup

salt & pepper
We preheat the oven to 375 degrees.
We rinse and pat dry the squash. Carefully, we halve crosswise, then scoop and discard the seeds. We slice a small bit off the ends to keep level and place, flesh-side down, on a parchment lined cookie sheet.
We cook for 30 minutes, turn with tongs, prick the insides with a fork, and divide the glaze ingredients in the two halves. We sprinkle with salt and pepper and continue to cook for another 30 minutes until tender.
We cut the squash halves in wedges and serve.