Hamburger Chili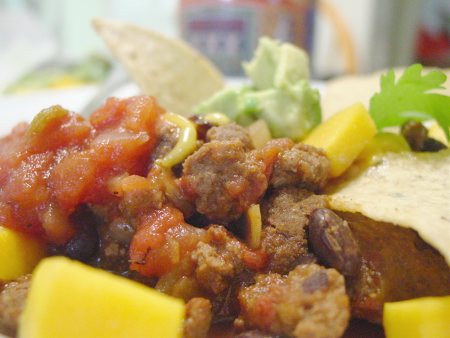 Prior to making this chili, we had grilled some hamburgers. We added spices to the ground sirloin (as in our
pan-fried hamburger
recipe), but there was too much meat to cook. We froze about a half a pound, which serves as base and inspiration for a quick hamburger and bean chili.
Ingredients
We start by heating a medium pot over medium heat. We defrost the ground sirloin for just a couple of minutes on the defrost setting of the microwave. We add a teaspoon of oil to the pot and then the defrosted meat. We wash our hands and cook, stirring occasionally, for about 5 minutes. We want the meat to be cooked through. We remove it to a paper towel lined plate to drain just a bit of fat.
We add the rest of the oil and the onion to the pot, scraping up the browned bits from the beef with a wooden spoon. We cook for just a couple of minutes while we dice the green pepper. We stir the softened onions and add the green pepper. These are cooked for another couple of minutes. Meanwhile, we smash our garlic cloves carefully with the side of our chef knife, discarding the peels. We sprinkle with salt and mince. The minced garlic, chipotle, ancho chile powder and cumin are added to the pot. We stir for a minute to allow the flavors to develop. We add the drained, cooked beef, the tomatoes, and the black beans to the chili and bring it to a boil. Then, we lower the heat, partially cover it, and cook for about 10 minutes to meld the flavors.
We stir and taste for seasoning. We cube the mango and avocado, sprinkling the latter with the lemon juice and salt. We serve the chili garnished with mango, avocado, salsa, cheese, and cilantro.