Two Bean Vegetarian Chili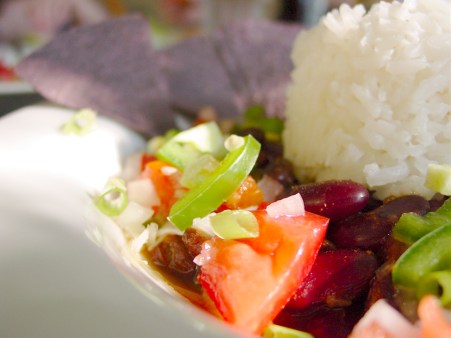 We have been watching a lot of Rachael Ray's "30 Minute Meals" show on the food network. She made a vegetarian bean chili recently and used beer and kidney beans along with black beans. Inspired, we vary our
Smoky Black Bean Chili
in this dish.
Ingredients
We begin by reserving 2 tablespoons of the onions for topping the chili.
In our dutch oven, we heat the olive oil and sweat the onions on medium-low heat for about 10 minutes.
Meanwhile, we chop the green pepper and quarter the mushrooms. When the onions are tender, we add the green pepper and continue to cook on medium heat for a few minutes. Then we mince the garlic. We add the mushrooms and cook until they release their juices. Next we add a little salt and the garlic and saute for 30 seconds. Then we add the beer and boil away half of it. We add the cumin and chile powder, black beans and red beans and cook for a minute. Finally, we add the canned tomatoes and simmer, partially covered, for about 15 minutes, stirring occasionally.
While the chili is simmering, we prepare our toppings. We chop the tomatoes and jalapeno and slice the scallions. We mix these in a large bowl with a little salt for a fresh salsa.
We top each serving of chili with the reserved onion, fresh salsa, a squeeze of lime, and some cheese.