Spicy Egg Wrap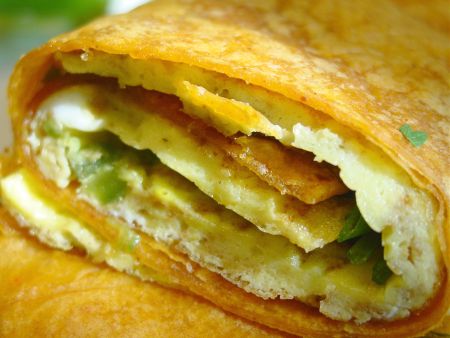 Inspired by Nigella Bites, an interesting cooking show starring Nigella Lawson, we make a spicy egg wrap. Essentially a frittata wrapped up, it makes a comforting snack or meal anytime of day. Nigella added turmeric and topped the finished frittata wrapped in lavash with "brown sauce". Our take on it is to replace the lavash with tortillas and use salsa instead of the "brown sauce". What is that we wonder?
Ingredients
1

jalapeño

chile pepper

4

scallions

1

tablespoon

canola

oil

2

cloves

unpeeled

garlic

½

teaspoon

ground

coriander

½

teaspoon

ground

cumin

4

large

eggs

coarse

salt

2

8-inch

chile flour

tortillas

fresh

cilantro

bottled

salsa
We start by preheating the oven to 400° F. We will start cooking our eggs on the stove and then put our ovensafe pan in the oven to finish cooking. First, we cut around the seed pod of the jalapeño, removing the green flesh of the pepper and leaving the seeds and ribs to discard. We mince the jalapeño, being careful to wash our hands well afterwards. Next, we slice the scallions.
We put our 10-inch nonstick pan on the stove and begin heating it with half of the oil over medium heat. We will prepare one egg wrap at a time. When the oil is hot, we sauté half of the minced jalapeño and half of the scallions. Using our garlic press, we press one garlic clove into the pan when the jalapeño and scallions are softened. We stir in half of the coriander and cumin. We whisk 2 of the eggs with a pinch of salt in a medium bowl and add to the pan. We let the eggs cook for a minute, and using a rubber spatula, lift the edges and allow the uncooked eggs to flow underneath. When the "frittata" is starting to set on top, we put it in the oven for a few minutes to finish cooking through.
We heat one of the tortillas wrapped in paper towels on a dinner plate in the microwave for 20 seconds. Using a potholder, we take the eggs out of the oven, give the pan a shake to loosen, and slide the mixture onto the warm tortilla (discarding the paper toweling first). We top with some cilantro and roll up. We serve this one with salsa while we make another one. Of course, we need to be extra careful of the hot handle as we repeat the sautéing of the vegetables and baking the egg mixture.