Veggie Grilled Cheese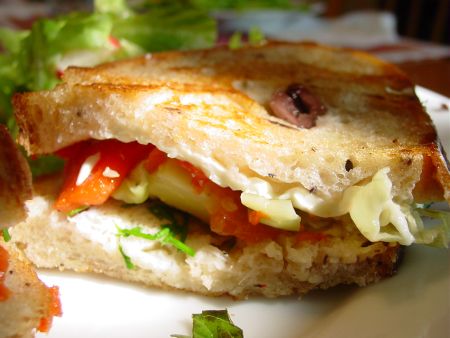 Artisanal bread, cheese, and pantry vegetables come together in a tasty grilled cheese sandwich. We packed the sandwiches rather full, so they were difficult to keep together in the pan. No matter, the ingredients which spilled out just became the garnish.
Ingredients
We start by thinly slicing the cheese, rinsing the roasted red peppers and artichoke hearts, and draining and slicing the pepperoncini peppers. We have these ingredients pushed to one side of our large cutting board.
Laying two slices of the bread on the cutting board, we start to layer in the ingredients. We place a quarter of the cheese on each slice, followed by half of the red peppers, artichokes, pepperoncini, and chives on each slice. We top with the remaining mozzarella and smoosh down with the other slices of bread.
We heat a large pan with half of the butter and olive oil. When hot, we put the sandwiches in the pan and cook for a couple of minutes. We carefully flip the sandwiches when the bottom is golden brown and add the rest of the butter and oil to the pan to cook the other side.
We slice the sandwiches in half, serving the vegetables which fell out as garnish.