Prosciutto Grilled Cheese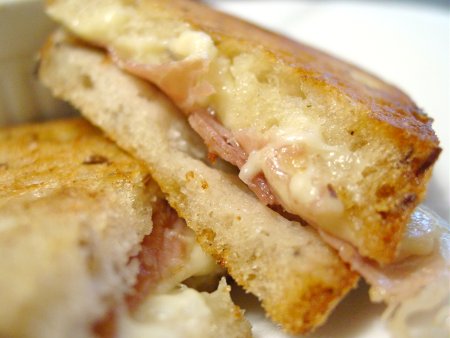 We vary our traditional grilled cheese sandwich by adding proscuitto and switching the cheese from american or cheddar to gruyère. We also cook the sandwiches on our electric griddle which is faster since we can cook at least two sandwiches at a time, and easier since the sandwiches are easier to flip. They are a perfect accompaniment to a salad or soup dinner, or as an appetizer cut in smaller portions.
Ingredients
Before putting together the sandwich, we start heating our electric griddle to 350° F. We slice our onion rye bread and slice our cheese on the slicer side of a 4-sided box grater. The gruyère slices should be roughly an eighth of an inch in thickness. We also have ready the pre-sliced proscuitto.
We cover one slice of bread with two layers of cheese slices. We break off any cheese that extends over the edges of the bread and place them in the center of the sandwich, distributing the cheese as evenly as possible. We also layer in two slices of the proscuitto.
We place the other slice of bread on top of the cheese. On top of the bread, we place two pats of butter. We make the butter thin slivers for lighter fare, a little thicker (a couple of teaspoons of butter) for a superb sandwich. We repeat with the second sandwich.
We spread some of the remaining butter, a teaspoon or so per sandwich, on the griddle and add the sandwiches, pat-of-butter sides up. We cook for a minute or two per side, a little longer if not golden brown.
The finished sandwiches are removed with a heat-safe spatula, cut in half, and served.