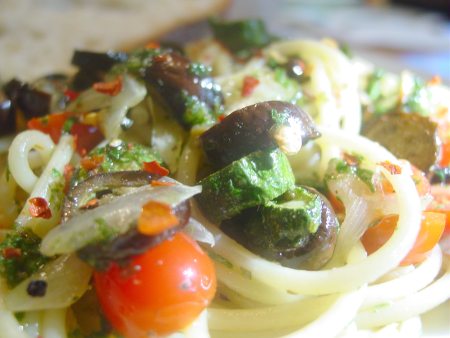 This pasta dish is inspired by the Provençal "Ratatouille" – a vegetable summer stew containing among other ingredients zucchini, onions, and eggplant. Roasting these vegetables instead of stewing them concentrates their flavors. The tomatoes, herbs and garlic, which would ordinarily be stewed, are left uncooked here for maximum summertime flavor. We omit the bell peppers that are also seen in the classic stew, but we could have added roasted peeled peppers to the dish to be more "authentic". Nevertheless, the resulting dish is full of flavorful vegetables and the quick herb-oil sauce is similar to pesto —coating the spaghetti nicely.
We start by preheating the oven to 400° F. We put a large pot of water on the stove and begin heating it for the pasta. We get ready a large cookie sheet to roast the vegetables, covering it with parchment paper for easy cleanup.
We clean, trim and slice our zucchini and eggplants. The zucchini are very small and, when sliced, only yield a heaping ½ cup. The eggplants vary, some we just slice, and others we quarter to be the same size as the zucchini pieces. We have 2¼ cups of eggplant pieces. We reserve the zucchini and eggplant in a large bowl. We cut the ends off the onion and halve. Discarding the peels, we slice and add to the vegetable bowl. We toss the vegetables with 1 tablespoon of the oil and spread on the cookie sheet. We sprinkle with coarse salt and freshly ground black pepper. We roast for 30 minutes, stirring occasionally. We want the vegetables tender and caramelized.
While the vegetables roast, we halve the tomatoes and spread on a dinner plate. We season with salt and pepper. We put the cleaned herbs in a 1-cup glass measuring cup and add the remaining ¼ cup of oil. We smash the garlic clove with the side of our knife (carefully!) and discard the peel. We add the clove to the measuring cup. Using our immersion blender, we blend the herb oil, stopping to stir the mix with a spoon to get it nicely puréed. We season it with salt and pepper.
When the water is boiling and the roasted vegetables are at most 10 minutes from being ready, we add a pinch of salt along with the spaghetti to the water and stir. We cook according to the package directions. Before draining, we reserve ¼ cup of pasta cooking water.
When the vegetables are cooked, we remove them from the oven and put in a bowl. As soon as the pasta is al dente, we drain, put back in the pot, and toss with the herb oil, pasta cooking liquid, roasted vegetables, and tomatoes.
We serve with freshly grated Locatelli cheese.