Grammy's Corn Pudding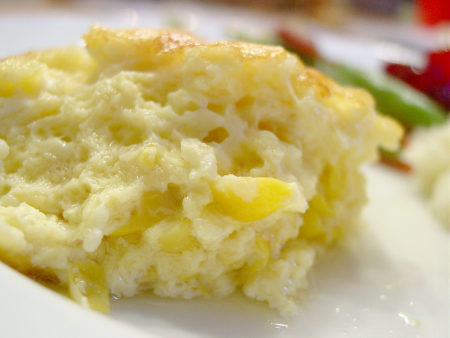 A staple at nearly all of the Strom family get-togethers is corn pudding. Grammy has been making this for years, referring to an old index card with the recipe. It is a comforting, easy, "dump" recipe, that is a perfect side dish, especially when there are many non-meaters around.
Ingredients
We start by preheating the oven to 350° F. In a medium pot, we combine the milk and butter and heat over medium-low heat. We want to melt the butter and warm the milk.
Meanwhile, in a large glass casserole, we combine the rest of the ingredients, including 3 good "dashes" of the yellow mustard. We stir with a fork to distribute all of the ingredients. Then, we pour in the warm butter and milk mixture and stir to combine. It looks like a mess but it will all come together when baked.
We bake the casserole for 1 hour or until it is browned and set.