Pasta with Escarole and Beans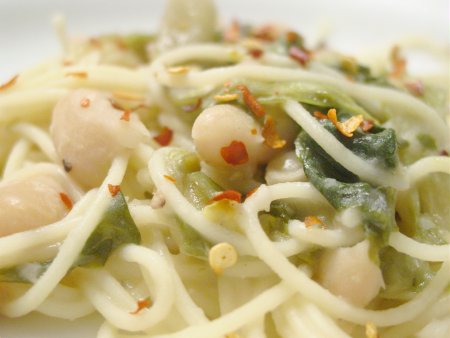 We turn a head of escarole into a satisfying pasta sauce with the addition of canned beans and other pantry staples. Robin's grandfather is visiting today and he is thrilled to hear we have escarole. It is our first attempt at cooking "macaroni with escarole" and Gramps has some suggestions—we should "add more liquid, it is too dry", and we should have "broken the capellini since it is too long to eat!" Even so, it had "good flavor", which we take as a high compliment.
Ingredients
¼

pound

capellini

pasta

3

cloves

garlic

salt & pepper

2

tablespoons

extra-virgin olive

oil

½

pound

escarole

14½

ounces

canned beans

cannellini

Pecorino romano

cheese

(Locatelli)

red pepper flakes
We start by bringing a large pot of water to a boil to cook pasta.
Meanwhile, we get started on our sauce. We smash our cloves of garlic with the side of our knife, carefully, and remove their peels. We mince the garlic with a pinch of salt and add to a large pan with the olive oil. We heat over medium-low while we coarsely shred the escarole.
We add the escarole to the pan when the garlic is fragrant, tossing with tongs. We add 2 tablespoons of water, cover the pan, and cook for a few minutes. Next, we remove the cover and add the beans, reserving 2 tablespoons of the beans for later, and some freshly ground black pepper. We continue to cook, partially covered, while the pasta water is coming to a boil.
We add the pasta and a pinch of salt to the water and cook for a few minutes according to the package directions. When the pasta is almost al dente, we take out ¾ cup of the pasta water. We add a ¼ cup of the water to the beans in a narrow container and puree with our immersion blender. We add this to the sauce along with the remaining ½ cup of reserved pasta liquid. We taste for seasoning.
We drain the pasta when it is cooked and mix in with the sauce. We serve with cheese and red pepper flakes.