Spiced Mixed Nuts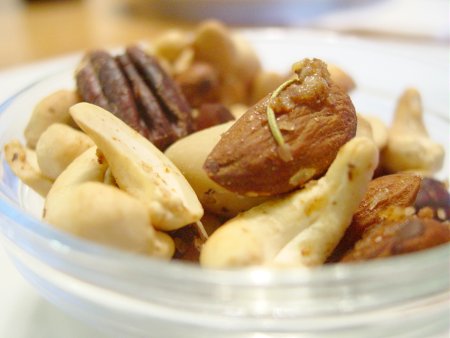 We were inspired by an episode of "Nigella Bites" to flavor an assortment of nuts with rosemary and spices. This is an easy recipe to create a quick hors d'ouevre for the family or for guests.
Ingredients
½

pound

raw, fancy, mixed

nuts

1

teaspoon

dried

rosemary

¼

teaspoon

ground

cayenne

1

teaspoon

dark

brown sugar

1

teaspoon

coarse

salt

½

tablespoon

unsalted

butter
We start by preheating the oven to 350° F. We spread the nuts on a parchment lined rimmed cookie sheet. While the oven is preheating, we also prepare the spiced butter ingredients. In a large bowl, we crush the dried rosemary with our fingers and add the cayenne, brown sugar, and salt. We put the butter in a small microwaveable bowl.
When the oven is ready, we add the nuts and toast until fragrant and golden. This takes about 10 minutes.
When the nuts are toasted, we melt the butter in the microwave in 10 second intervals. When it is melted, we mix it with the sugar and spices. We add the hot nuts and toss well with a spoon.
The nuts are served warm or at room temperature in serving dishes.