Jalapeño Corn Cakes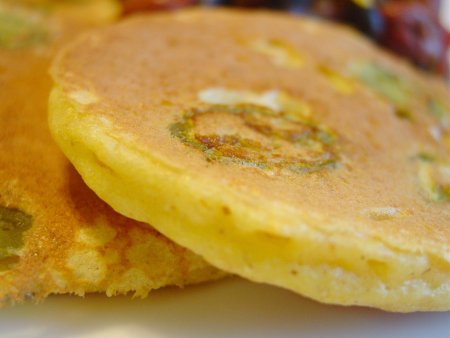 We combine buttermilk and cornmeal with spicy pickled jalapeños for a savory tex-mex-inspired pancake. Served with a
bean chili
to soak up the flavors, they are a whole-grain, low-fat alternative to chips! We do keep chips of a different sort around for the children, chocolate that is, to enjoy with their corn cakes!
Ingredients
We pre-heat the griddle to 375° F.
In a large bowl, we combine the dry ingredients and mix them well with a whisk.
In a medium-sized bowl, we beat the eggs slightly with the whisk. We add 1 cup of the buttermilk and stir until combined. We add the wet ingredients to the dry mixture and stir until just combined. It is a little thick, so we gradually add more buttermilk to make it a cake-like consistency.
Using our metal ¼ cup measuring cup, we fill it a little more than halfway with batter and dump the batter onto the griddle for each pancake. For the spicy version, we immediately distribute three drained pickled jalapeños onto each cake. For those pancakes that will become chocolate chip pancakes, we distribute the chocolate chips.
When the edge of the pancakes begin to harden, after 2 minutes or so, we flip them. We cook the opposite side for another minute and serve immediately. We end up with about 16 corn cakes.