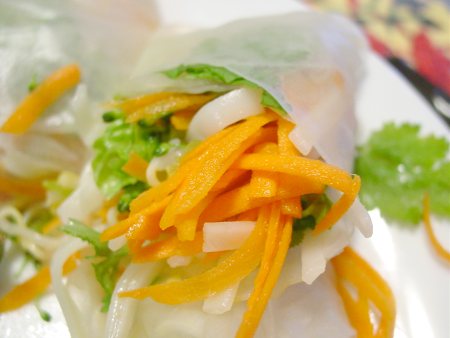 We try using rice paper wrappers for the first time—filling them with simply prepared noodles and vegetables. The rolls are served cold, the only cooking involved is preparing some of the fillings, which could all be done ahead of time. The rolls could also be filled and covered with a damp cloth and refrigerated for a short time before serving, but we just make and eat them right away. Our daughter's favorite fillings are broccoli, edamame (which we serve with the rolls) and cilantro—which she calls "parsley"!
We start by preparing all the fillings—getting them ready in different bowls.
The leftover cooked noodles, peanuts, and bean sprouts each have their own, separate bowls.
We rinse the broccoli and cut into small pieces. We put them in a large bowl with a teaspoon of water, cover with plastic wrap, and cook for a few minutes in the microwave until tender. We set aside to cool.
Next, we rinse and peel our carrots, and cut into lengths that will fit in the feed tube of our food processor. We shred and put in a bowl. We also shred the green pepper in the food processor but it gets rather watery – next time we will thinly slice it with our knife.
We also ready the cilantro and lettuce, setting them aside on a plate.
We pour about a cup and a half of water in a 9-inch glass pie pan and heat in the microwave for a minute. We want the water hot enough to soften the rice paper wrappers, but not so hot that it might scald small hands. We ready a large dinner plate with a moistened paper towel to place the softened wrapper.
One at a time we ease the brittle wrapper into the hot water, keeping them submerged for 20-40 seconds, counting "mississippi's!". We want the wrapper soft, but not so soft that it will fall apart. This step involves some trial and error before we get the hang of it.
We place the softened wrapper on the paper towel lined plate, add desired fillings. We cut pieces of broccoli or noodles with scissors as necessary. We add a little sesame oil and squeeze of lime, fold over, fold in the sides, and roll up.