Quick Turkey with Stuffing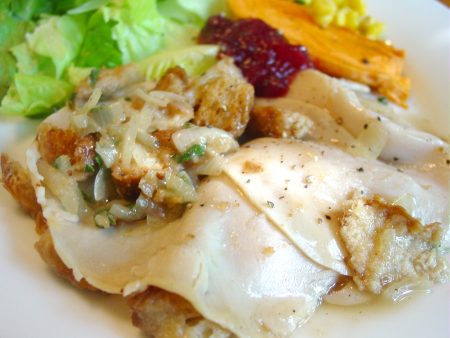 In the mood for Thanksgiving fare in June, and with a boxed turkey gravy in the pantry, we use deli turkey and toasted bread to make a hot turkey and stuffing dinner. Thanksgiving in June does have its advantages—like walking out to the herb garden to pick the sage and thyme that we often use dried at the holidays.
Ingredients
½

cup

yellow, chopped, leftover, cooked in teaspoon of oil

onion

3

slices

wheat

bread

½

tablespoon

unsalted

butter

4

fresh, large leaves

sage

1

tablespoon

fresh

thyme

½

cup

store-bought, boxed

turkey gravy

4

sliced

deli

turkey

salt & pepper
We happen to have cooked chopped onion in the fridge (it pays to cook so much at home), otherwise, we would have started cooking some chopped onion in a pan with a little olive oil. We re-heat the onions in the microwave for 30 seconds or so until hot.
We toast the bread lightly in the toaster oven, butter each slice of bread, and then cut into ½ inch squares. The sage leaves are sliced with scissors.
In a bowl, we mix the toasted buttered cubes with the onions, herbs, and ¼ cup of gravy. We top with the turkey slices and another ¼ cup of gravy. We heat in the microwave for a minute and check. We want the turkey and the "stuffing" heated through and the gravy bubbling.
We divide the turkey and fixings on two dinner plates and season with salt and pepper. We heat more gravy in the microwave and serve on the side.