Microwaved Spaghetti Squash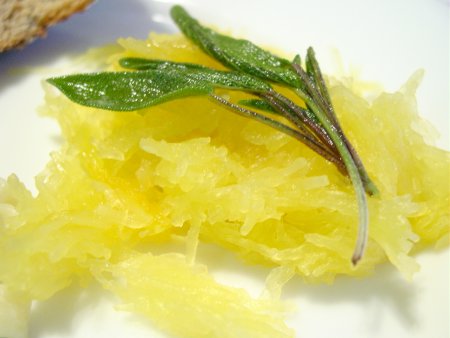 Inspired by the bounty of winter squash at the markets, we purchase a spaghetti squash. We tend to get in a rut sometimes cooking the same vegetables for our children. We try and "fool" them into thinking it is a spaghetti vegetable. They are not fooled, but it is a tasty side for the adults. The squash is cooked simply and quickly in the microwave and served with sage oil and parmesan cheese.
Ingredients
1

medium

about 2 pounds

spaghetti squash

2

tablespoons

extra-virgin olive

oil

5

leaves

fresh

sage

Parmigiano-reggiano

cheese
We start by rinsing and patting dry the squash. With a fork, we prick the shell a little in a few places (to allow steam to escape). We wrap it in wax paper and place on a microwave-safe plate.
We microwave the squash on high power for 2 minutes. We rotate the squash (carefully—it gets hot!) and continue to cook, checking in 2 minute intervals for a total of 8 minutes.
The squash is removed from the microwave when the shell is getting soft. We set it aside to finish cooking and to give it some time to cool so we can handle it.
After 5 minutes or so, we cut the squash in half, crosswise. With a spoon, we scoop out the seeds and fibrous flesh and discard. Holding the squash flesh-side down over a bowl, we pull the spaghetti-like strands of cooked squash out of the shells with a fork.
In a microwave-safe cup, we combine the oil and sage leaves. We heat in the microwave for 20 seconds and pour over portions of the cooked spaghetti squash. At the table, we sprinkle the squash with parmesan cheese.