Cream Biscuits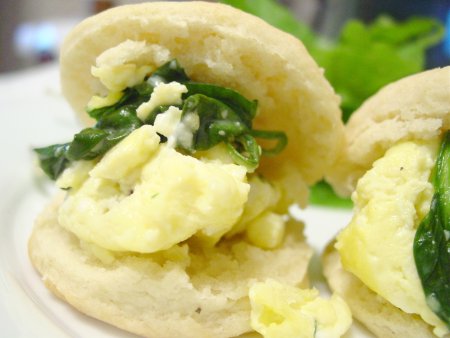 We are inspired by Sara Moulton's new cookbook to create egg sandwiches with biscuits. We fill small cream biscuits with scrambled eggs, spinach, and feta cheese for a delicious breakfast or dinner. The biscuits are made with cream and are simple to prepare and wonderful to eat. They would be great as a side or eaten with butter for a snack!
Ingredients
We start by preheating the oven to 425° F.
In a large bowl, we whisk the flour, baking powder, and salt. We pour in ½ cup of cream to start, stirring with a flat whisk. We want the dough to just come together. We add another ¼ cup of cream and the dough comes together.
The dough is dumped out on a large piece of wax paper coated with a little flour. With our hands, we knead the dough a few times until it is nice and smooth. We flatten into a rectangle with our hands until it is about ½ an inch thick. Using the top of a small juice glass, we cut out 2-inch biscuits and place them on a parchment lined cookie sheet. When we cannot cut anymore with the glass cutter, we reform the dough a couple of times, until we have 6 biscuits.
We bake the biscuits for 15 minutes until they are lightly browned and serve them warm.