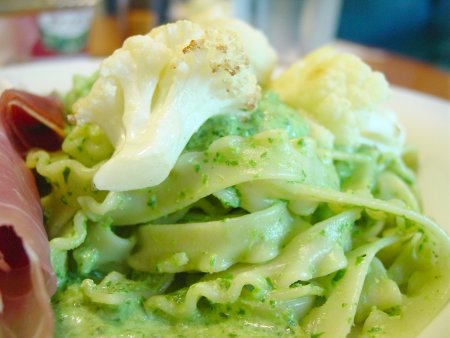 We usually associate this shape of pasta (mafaldine) with
ricotta cheese
, but with no tomatoes in the house to make sauce, we make an uncooked pesto-like sauce with walnuts, fresh spinach and arugula, and the ricotta cheese. It is a wonderful combination of fresh, spicy greens, rich walnuts and creamy ricotta. Be warned that the arugula adds a deep flavor—using all spinach would make for a less pungent sauce! If we would have had grape tomatoes on hand, they would have been nice for added color and sweetness. Instead, we top the pasta with roasted cauliflower and proscuitto for added texture and flavor. The color of the green sauce, the white cauliflower and the pink proscuitto reminds us of the much anticipated spring!
We start by preheating the oven to 450° F. We rinse and pat dry the cauliflower and separate the florets on our cutting board with a sharp knife. We rinse the florets in a colander, pat dry, and toss with the oil on a foil-covered cookie sheet. The vegetable is also generously sprinkled with salt and pepper.
We heat a large pot of water over high heat for the pasta.
Into our toaster oven, we put a single layer of the diced walnuts on a piece of foil and cook at 350° F for a few minutes. As soon as they are fragrant, we remove them to cool.
We roast the cauliflower for 10 minutes, stir, and cook an additional 10 minutes or so. We want the cauliflower tender and starting to caramelize.
Meanwhile, when the water for the pasta is boiling and the cauliflower is almost done, we add the pasta along with a good pinch of salt. We stir well and cook according to the package directions. We want the pasta just al dente.
In our food processor, we combine the spinach, arugula, walnuts, ricotta, Locatelli, pressed garlic clove, and some salt and pepper. We purée. We have about a cup and a half of sauce.
When the pasta is done, we reserve ½ cup of pasta cooking liquid, and drain the pasta in the colander. We put the pasta back in the pot and toss with some of the sauce and pasta cooking liquid. We taste for seasoning.
We serve the pasta with additional sauce (not too much since it is cold), a drizzle of walnut oil, some slices of proscuitto, roasted cauliflower, and red pepper flakes if desired. Leftover sauce is covered and refrigerated for another use.