Farfalle with Saffron Cream Sauce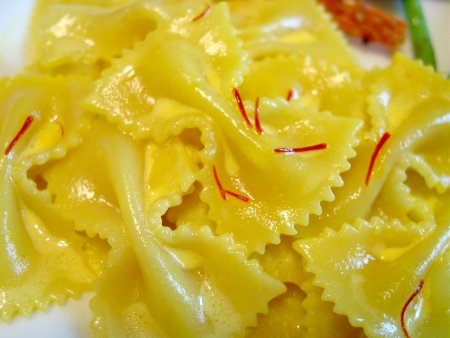 Wanting to create an impressive pasta course, we reach for saffron. Saffron is expensive, but a little goes a long way. Its unique flavor shines through a creamy, pretty pasta dish. Simple and quick!
Ingredients
We start by heating a large pot of water over high heat to cook the pasta. When it is boiling, we add a pinch of salt and the pasta. Stirring well, we cook according to the package directions. We want the pasta just al dente.
While the pasta is cooking, we combine the cream, butter, and saffron in a microwave-safe measuring cup. We heat for 30 seconds. We want to melt the butter and heat the cream until hot, but not boiling. This step will also infuse the saffron flavor into the cream. We stir and set aside.
When the pasta is done, we drain in a colander. We put the farfalle back into the pot and stir in the saffron cream sauce.
We serve small portions and top with a little freshly grated Parmesan.