Orange Yogurt Sauce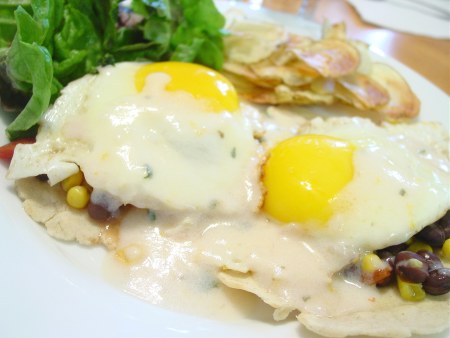 This one-pot sauce is used like a Hollandaise or Béarnaise sauce, but healthier and easier to prepare. The first time that we serve it, we use it to top fried eggs resting on corn tortillas with black bean and corn salsa. It would also be nice with poached eggs, english muffins, sautéed spinach, and smoked salmon. We make about ½ cup of sauce, but it can be easily doubled.
Ingredients
½

tablespoon

cornstarch

¼

cup

cold tap

water

2

tablespoons

unsalted

butter

1

medium

Blood

orange

½

tablespoon

yellow

onion

½

tablespoon

fresh, Italian-leaf

parsley

⅛

teaspoon

dried

tarragon

salt & pepper

2½

tablespoons

plain, low-fat, organic

yogurt
We put the cornstarch in a medium pot and gradually stir in the cold water with a heat-safe spatula. When it is well mixed we add the butter. Using our microplane, we grate directly into the pot ¼ teaspoon or so of the zest of the blood orange. Then, we halve the orange and squeeze in ½ tablespoon of the juice. We add the onion, parsley, tarragon, and a sprinkle of salt.
Over medium heat, we stir the mixture with the spatula, until it comes to a boil. We continue to stir for half a minute and then remove the pot from the heat.
In a medium bowl, we stir the yogurt with a fork and then gradually add the hot liquid, stirring constantly. When the yogurt is incorporated with the rest of the ingredients, we taste for seasoning and add a little pepper.
We serve immediately with cooked eggs.