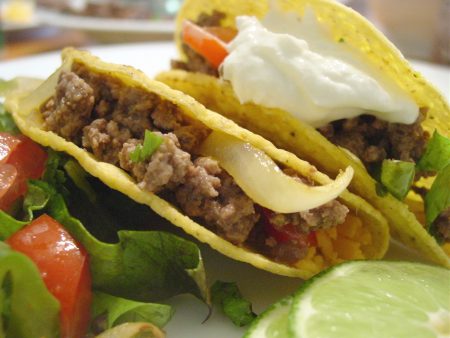 We stuff store-bought taco shells with ground sirloin, roasted peppers and onions, and additional fixings for a tasty Mexican-inspired dinner. The meat is purposefully prepared mild so that our children will be able to enjoy! Salsas and hot sauce served on the side, of course.
We start by preheating the oven to 325° F. On a foil-covered cookie sheet, we put the separated taco shells – enough for the family. The remaining taco shells (just 2 for us) are re-wrapped and set aside.
While the oven preheats, we put a large pan on the stove and begin heating over medium heat. We peel, halve, and thinly slice the onion. Adding the basting oil to the hot pan, we stir in the sliced onions. While the onions cook, we thinly slice the green pepper, and then add to the onions. We stir in ¼ teaspoon each of the chipotle and ancho chile powders, and a sprinkle of salt. After just a few minutes, the onion and green pepper are tender. We spread next to the taco shells on the cookie sheet.
We heat in the preheated oven for less than 10 minutes while we cook the meat.
In the same pan we cooked the peppers and onions, we add the grapeseed oil and the ground meat. We cook over medium heat, breaking up the meat with our heat-safe spatula. As the meat cooks, we press in the garlic, and add the onion powder, 1/8 teaspoon each of the ancho and chipotle chile powders (the reserved chile powders), and ground cumin. We keep stirring until the meat is no longer pink. We season with salt, about ½ teaspoon to start. We taste for seasoning. We drain the meat on a paper-towel lined plate and then serve in a bowl.
Meanwhile, we get plates ready with the fixings. We have cheese, lettuce, tomato, cilantro, and yogurt. We halve the avocado, cube the flesh, and with a spoon, remove the avocado from its shell. We sprinkle the cubes with lime juice and salt. We also have the salsa and hot sauce on the table.
When the taco shells are crispy and the sirloin cooked, we build the tacos at the table with the meat, peppers and onions, and all of the fixings.