Red Wine and Walnut Vinaigrette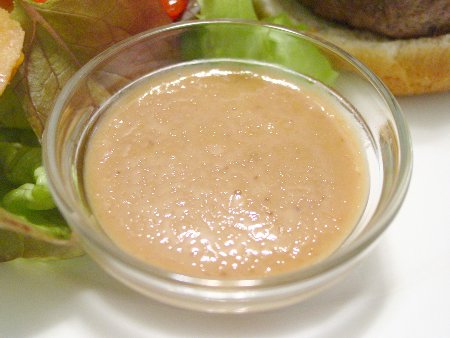 Robin's "double" vinaigrette combines two vinegars and two oils for a great balance in acidity and richness.
Ingredients
3

tablespoons

red wine

vinegar

2

tablespoons

balsamic

vinegar

2

teaspoons

Dijon

mustard

(Grey Poupon)

½

teaspoon

coarse

salt

¼

cup

Walnut

oil

½

cup

extra-virgin olive

oil

1

clove

garlic

freshly ground

black pepper
We start by combining the vinegars, mustard and salt in the beaker of our immersion blender (we could have also used a small processor or blender). We pulse with the immersion blender to incorporate the ingredients and then add the walnut and olive oils and blend until the dressing is well-mixed. We smash the garlic clove, carefully, on the cutting board, discard the peel, and let it soak in the vinaigrette for 30 minutes.
When it is time to serve, we remove the garlic clove, add some freshly ground black pepper and taste for seasoning on a piece of lettuce. Any remaining dressing is stored in the fridge in a resealable plastic container, for up to five days, until ready to use.