Eggs Over Easy and Potato Croquettes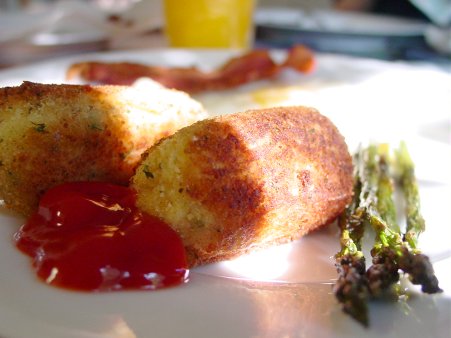 We had a very nice Fourth of July meal. Our only regret was that we didn't write anything up for the cookbook. Ah well, the mashed potatoes that we enjoyed yesterday become potato croquettes in tonight's breakfast dinner.
Robin's mother gives an assist with tonight's meal with some eggs over easy. Unlike those that you might get when you order in a restaurant, these eggs are actually over easy.
Our sides are bacon and roast asparagus. The bacon is because eggs without bacon are just wrong. The asparagus at Graul's was too tempting the other day. It didn't fit in with our Fourth meal, but goes very well with tonight's.
The best part of tonight's meal was the potato croquettes, which are fabulous, as always. Robin's mother provided the mashed potatoes yesterday. Not getting the recipe for that is what we most regret about not writing up anything yesterday – so… very… good. As with any leftovers, the better the original, the better it is the next day. Tonight is no exception. The croquettes were wonderful. They are crispy and very creamy.