Chicken Enchiladas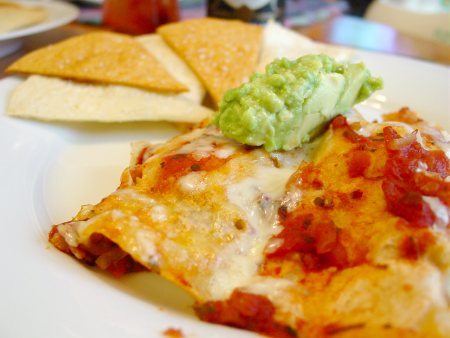 This was a wonderful end-of-week meal. After yet more snow plus a little illness, this meal was ideal. Enchiladas are easy to prepare and are a fabulous way to use up leftovers. We exploited both of these aspects of enchiladas tonight – and they taste great as well!
We're not able to add a recipe tonight because we really need a poached chicken recipe first – the poached chicken being the chicken that we used. We'll get around to that sometime in the near future.
Also, we don't like to create a recipe based in part on leftovers without a documented original meal. We neglected to document a chipotle bean burritos meal from earlier in the week. Since some of the leftover bean mixture from that meal goes into tonight's enchiladas, we leave a chicken enchiladas recipe for the future.
The chicken enchiladas preparation is somewhat similar to our black bean enchiladas recipe. For future reference, a rough description of the recipe is as follows.
We mix 1 cup of chipotle beans with some canned chopped tomatoes and 6 ounces of cooked shredded chicken. We make 8 enchiladas topped with chipotle salsa and monterey jack cheese and bake covered at 400 degrees for 15 minutes. We then uncover and broil for a few minutes to crisp slightly.