Caribbean Swordfish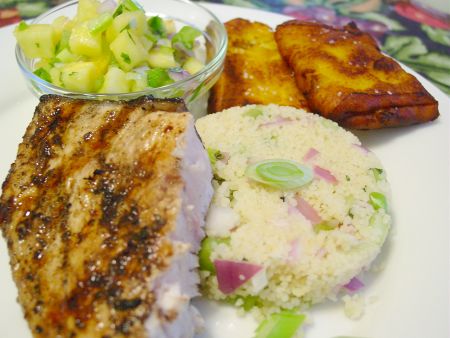 Our latin experience continues with this adventurous swordfish meal. We've been in a latin mood since
Uncle Nick's visit
. Plus we still have some plantains leftover from the
tostones
that Uncle Nick helped to prepare.
Robin stopped by Graul's earlier in the day to grab some fish. She went in thinking that swordfish might be nice to try. The gentleman working the seafood counter let Robin know that swordfish was a firm fish, similar to rockfish, and asked if she had ever tried it. She was quite proud to answer that yes, she has had
rockfish
.
Chris got involved with this meal by grilling. Like most men, Chris likes to grill. Like most women, Robin thinks she could do a better job – she wants the grill hotter next time when the fish first goes on to get the good grill marks.
The recipe for the swordfish is a Robin special. It was delicious (and cooked perfectly!). The fruit salsa and couscous complement the swordfish very nicely. We're becoming fans of this latin stuff!