The Photo Session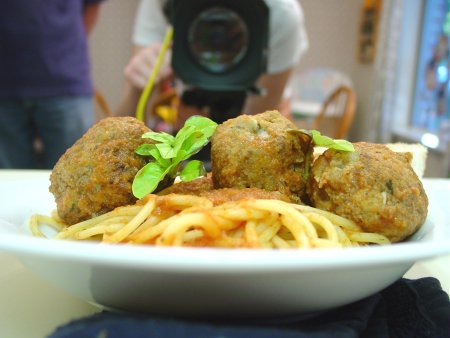 Miss Michèle and Mister Brian from Baltimore Magazine stop in for a photo session. We prepared the most photogenic meal that we could think of – spaghetti and meatballs, italian sausages, garlic eye round and more.
We spent much of Sunday preparing for dinner tonight. Chris and the kids even helped preparing the meal, though Robin still did most of the cooking. The effort we put into the meal is usually reserved for a Sunday meal, but we put it all into the fridge and then went out to dinner.
The photo session was exciting. It seems that we'll have a brief write-up in the magazine's "B-Sides" section this December. Unfortunately, they couldn't stay for dinner as we had expected. Our daughter was so disappointed that she said, "my heart is breaking".
Their early, unexpected departure left us with lots of food. Since it was mostly meat, we immediately thought of Eric and gave him a call. He was more than happy to take a couple of meatballs, several sausages and some garlic eye round off our hands. We're not sure what Sarah had for dinner, but Eric ate well. As did we.