Meatloaf and other Comforting Things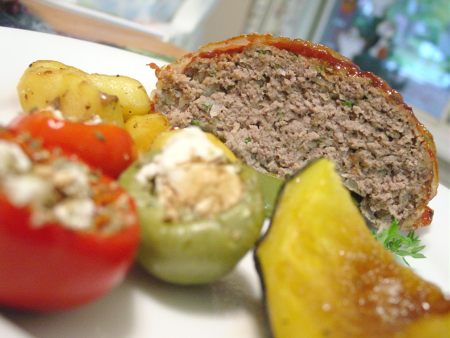 The leaves are changing, there's a nip in the air and we've been quite sick. All of this means that comfort food is quite welcome. Tonight, we opt for meatloaf, roasted potatoes, baked squash and something not so comforting – stuffed cherry peppers.
After our last meal, Chris spent the next two days in bed. Eventually we found out that he had strep throat. We're still not sure where he got it from – the kids didn't have it. Whatever the source, we didn't do much cooking the rest of the week or the weekend. We ran some errands last night, so we get back into the swing of things tonight.
The kids really enjoyed this meal. Our son devoured the meatloaf and both kids ate the squash happily. All in all, this meal was just what we needed – something to warm our bellies and get us back into familiar routine.