Mickey Cakes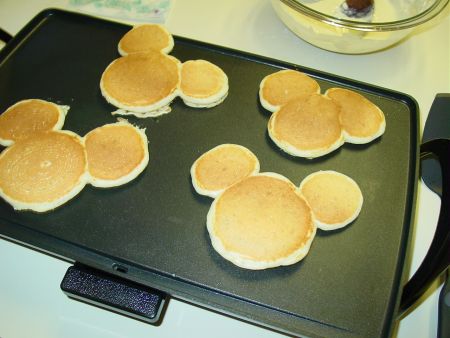 Milk, milk, milk for the batter. Well buttermilk actually. These buttermilk pancakes are easy to prepare and quite fast (especially with a griddle). Making them mouse-shaped inspired our daughter to eat an entire pancake!
Ingredients
1

cup

all-purpose, unbleached

flour

1

teaspoon

baking powder

1

teaspoon

baking soda

1

tablespoon

sugar

1

teaspoon

salt

1

egg

1

cup

buttermilk

for eyes and a smile

blueberries
We pre-heat our griddle to 375 degrees.
This is about as easy as it gets. In a large bowl, we combine the dry ingredients. In a medium sized bowl, we beat the egg lightly and then add the buttermilk. Finally, we add the egg and buttermilk to the dry ingredients, stirring until well combined (but still a little lumpy).
The batter is a little thick, so we add a little more buttermilk, probably about 1/4 of a cup.
To get the mouse shapes, we put put a little less than 1/4 cup of the batter onto the griddle. We then take another 1/4 cup of batter and split it between the two ears. We pour the batter about two inches away from the edge of the original circle and allow the ear circles to expand until they merge with the head circle.
We cook each pancake for about 90 seconds per side. With some of the pancakes, we add blueberries for eyes and mouths.