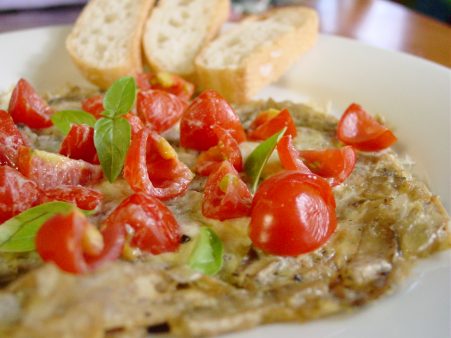 A frittata is an easy egg dish. We use fresh artichoke hearts and farmer's market cherry tomatoes to flavor the eggs for a meal for one or a side for two. The fresh artichoke hearts can be replaced by frozen defrosted or canned hearts for an even easier dish!
We pre-heat the oven to 375 degrees.
We heat up our 10 inch non-stick pan (a pan that is oven-safe) with the olive oil over medium-low heat with the minced garlic.
Meanwhile, we carefully trim the artichokes down to the heart with a sharp knife. We remove all the tough leaves and the fuzzy choke. Artichokes discolor easily so we should have soaked them in acidulated water (water with lemon juice) but we do not bother here since we are going to saute them anyway. We thinly slice the artichoke hearts and add them to the garlic. We stir and, after a minute, we add the water and steam for about 5 minutes over medium heat.
We then beat the egg, egg whites, salt, and pepper in a medium bowl with a fork. When the artichokes are tender, we pour the egg mixture into the pan. We cover the pan with aluminum foil and cook until the top is starting to set and the bottom is brown. This takes a few minutes.
Using a heat-safe rubber spatula, we make sure the frittata is not stuck to the pan. We then top with half the Locatelli, the cherry tomatoes, and then the rest of the Locatelli. We place the pan, without the foil, in the oven and cook for another few minutes. We want the frittata to be cooked through and the cheese melted.
We carefully take the pan out of the oven with a pot-holder and slide the frittata onto a serving plate. We cut into wedges and enjoy topped with some garden-fresh basil.