Old Bay Seasoned Oven Fries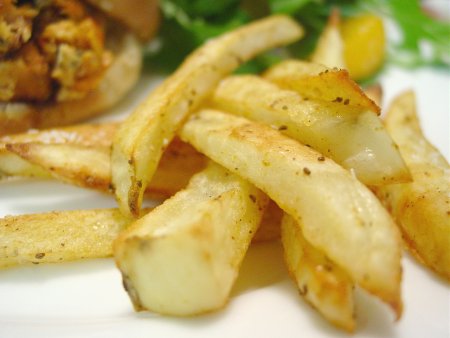 This is a simple side dish requiring just a quick peel and chop of a potato which is baked in the oven until tender and crisp. They are
much
healthier than fried french fries and are cooked in the oven so they are out of the way when preparing main courses.
Ingredients
1

large

baking, russet

potato

2

teaspoons

extra-virgin olive

oil

salt & pepper

½

teaspoon

Old Bay Seasoning

ketchup
We start by pre-heating our oven to 425 degrees.
After we scrub and peel our baking potato, we cut it in half and then into fries about 3 inches by ½ inch, trying to be as even as possible. We get about 36 fries from our one potato.
We put the fries in a medium bowl and toss with half the oil, salt, pepper, and the Old Bay Seasoning. The rest of the oil we spread on a foil-lined cookie sheet. We spread on the potatoes, being sure they are in one layer, and put in the middle of the hot oven.
We check after 25 minutes, carefully turning the fries with tongs. They are almost tender, so we just continue to brown them on the other side for about 10 more minutes.
We serve with additional seasoning and ketchup.