Pasta, Peas and Bacon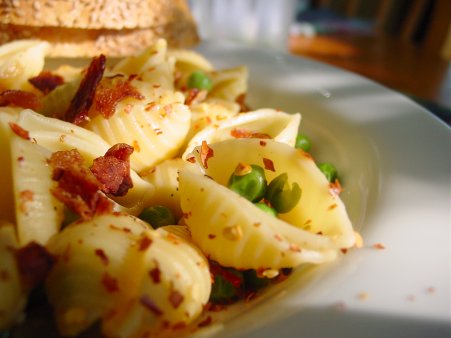 Pasta, peas and onions are a traditional favorite for us, especially when we're in a hurry. The flavor of the peas and onions compliment each other wonderfully. Both are a little sweet – the peas naturally so and the onions due to the carmelizing that occurs when they're sauteed. Both add a distinct flavor that is both readily identifiable and quite good. In this recipe, we add a little bacon to add yet another good flavor.
Ingredients
We start tonight's meal by heating a large pot of water for the pasta. We place the bacon into a large frying pan and turn on the heat to medium. We cook the bacon, turning the slices occasionally to fry evenly, for about 15 minutes.
At this point the bacon is almost to our liking, so we blot up most of the bacon fat with paper towels, leaving about a teaspoon of fat in the pan. We add the onions and lower the heat to medium-low. We cook and stir as the onions get translucent.
When the pasta water is boiling and the onions are cooking, we add salt and the pasta to the water. When the pasta is 3 minutes away from being al dente, we remove the bacon to a plate lined with paper towels to crisp. We add the peas to the cooked onions and add about 1/2 cup of the pasta water. We add some freshly ground black pepper and reduce the heat to low.
The bacon is not as crisp as we like it, so we cover them with another piece of paper towels and microwave them for 20 seconds. They are done, crisp but not blackened! We let cool a second and crumble.
When the pasta is done, we strain it in a colander. We put the pasta back in the pot and add the peas and onions. We stir and then serve with the crumbled bacon, Locatelli and some red pepper flakes.