Tomatillo Salsa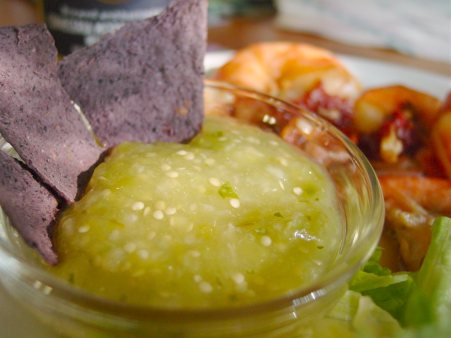 This green salsa is delicious with chips, or any place you would use red salsa. We use tomatillos we picked up at the farmer's market so they're nice and fresh. Tomatillos look like small green tomatoes – they are in the same family, but are citrusy and tart. They can be eaten raw, but cooking them mellows their taste and softens their skins. We boil them here but they can also be roasted.
Ingredients
10

small

golf-ball size

tomatillos

kosher

salt

1

large

onion

1

clove

garlic

1

large

fresh chile

jalapeno

1

tablespoon

leaves

cilantro

1

medium

lime
We start off by preparing the tomatillos. We pull off the husks and rinse the sticky residue off the green flesh. We put them in a pot and cover with cold water. We bring the water to a boil, add a little salt, and boil for 5-10 minutes until tender when pierced with a knife. We use a slotted spoon to remove the tomatillos as they are done and put them in a medium bowl.
Meanwhile, we chop the onion coarsely yielding 1/2 cup. We mince the garlic with a little salt and mince the 1/2 of a jalapeno.
In our food processor, we combine the cooked tomatillos, onion, garlic, a little more salt, and the cilantro leaves. We puree until almost smooth, leaving it a bit chunky for texture. We pour into a bowl.
When we are ready to eat, we squeeze the 1/2 of lime into the green salsa, stir, and serve.