Breaded Pork Cutlets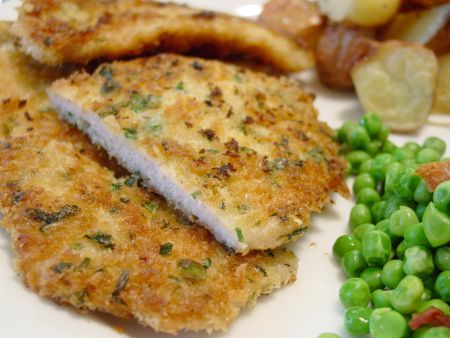 This is a very similar to the veal cutlets Robin enjoyed as a little girl. We replace the veal with lean pork and the Italian bread crumbs with crispy Panko crumbs. Any leftover cutlets are delicious in a salad served cold or served hot with some spaghetti and sauce.
Ingredients
1

pound

4 boneless center-cut chops

pork

1

cup

Shake & Blend

flour

(Pillsbury)

salt & pepper

2

large

eggs

1

tablespoon

water

2

cloves

garlic

1

cup

japanese

bread crumbs

(Panko)

1

tablespoon

mix of fresh parsley, thyme oregano, and rosemary

herbs

1

tablespoon

Pecorino romano

cheese

(Locatelli)

2

teaspoons

butter

for frying

olive oil
We prepare the pork cutlets by rinsing and patting them dry. We trim them of fat and then butterfly them. One at a time we pound them between sheets of wax paper until they are very thin and then cut each one into a few pieces. We end up with 13 pieces of thin pork.
We pre-heat the oven to 300 degrees.
We use "standard breading procedure" to coat the pork cutlets. On a plate we place a piece of wax paper and pour on the flour. We add some salt and pepper to taste. In a bowl we lightly beat the egg with the water in a bowl. We add the minced garlic. On another plate we place another piece of wax paper with the bread crumbs and mix these with the fresh herbs and cheese. We get some other plates ready to place the breaded cutlets.
We place each cutlet first into the flour mixture, then the egg mixture, and finally the bread crumbs. If we had time we would refrigerate these for a little bit to help the coating adhere, but we do not have time tonight!
In a large frying pan, we heat 2-3 tablespoons of olive oil with a third of the butter over medium heat. When hot, we add a third of the pork cutlets and pan-fry for 2 minutes, turning when the bottom is brown. We continue to cook on the other side for another 1-2 minutes and then we drain on paper towels.
After a minute we put these on an aluminum-foil coated cookie sheet in the oven to keep warm until all of the pork is fried. We wipe the pan with paper towels using our tongs, add more olive oil and butter to the pan and continue until all are done.