Chipotle Baked Shrimp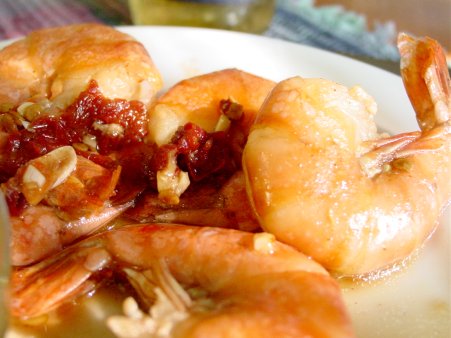 This recipe is adapted from Sara Moulton's "Cooking Live" show. The shrimp are baked in their shells which imparts more flavor to the liquid in which they are cooked and makes them fun and messy to eat. We bake them here, but this could also be done in a pan on the stove. Rice, cheesy grits, or bread are necessary to sop up the juices.
Ingredients
1

pound

jumbo, uncooked, deveined, with shell-on

shrimp

(Trader Joe's)

4

tablespoons

butter

1

cup

beer

(Bass Ale)

1

tablespoons

Worcestershire sauce

1

canned

in adobo sauce

chipotle chile

2

cloves

garlic

kosher

salt
We begin by pre-heating the oven to 400 degrees.
We heat the butter in the microwave in a 1-cup glass measuring cup for 30 seconds. We remove and add the beer and Worcestershire sauce. We chop the chile with a fork and knife on a plate and add to the measuring cup along with 2 teaspoons of the adobo sauce. We add the garlic and some salt and stir well.
In a 9 × 13 inch pan we mix the shrimp with the sauce. We place in the oven and bake for 5 minutes. We turn the shrimp with tongs and cook for another 4-5 minutes until just cooked through.