Fusilli with Chopped Mushroom Sauce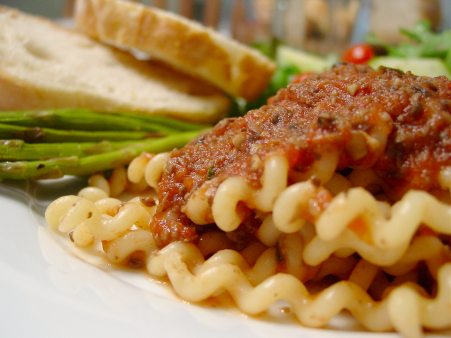 A Tripoli classic is
fusilli with chopped meat gravy
. The long curly strands of pasta are perfect with a tomato sauce thick with chopped beef. This is our vegetarian version, replacing the meat with mushrooms. The sauce is healthier, yet still rich with flavor.
Ingredients
We start by heating the olive oil in our dutch oven. We add the onion piece and cook on medium-low heat, turning often. This takes 5-10 minutes. Meanwhile, we pulse the cleaned mushrooms in our food processor, a third at a time, until they are just chopped. We do not want them to get too wet. We add the chopped mushrooms to the onion pan and continue with the rest of the mushrooms. We cook, stirring often, over medium heat, with a little salt and pepper. When the mushrooms have released their liquid, we boil this water down. The minced garlic cloves are then added and cooked for 30 seconds.
We pour the tomato liquid from one can into the dutch oven, and put the whole tomatoes from the one can into the rinsed-out food processor. We puree the tomatoes until smooth. When 1 can of tomatoes is completed, we pour it into our dutch oven. We then pour the tomato liquid from the second can into the dutch oven and puree these tomatoes. Once these have been pureed and added to the stove, we add the red pepper flakes, some more salt and pepper, and the bay leaf. We then simmer the sauce for about 20 minutes, partially covered, over medium low heat.
We bring enough water to a boil for a pound of pasta and add a little salt. We cook the fusilli until al dente and drain it in a colander. We add the torn basil to the sauce at this time and turn off the heat. In a large serving bowl, we mix the pasta with some sauce.
We serve this pasta meal with additional tomato-mushroom sauce and some Locatelli.