Fusilli with Meat Sauce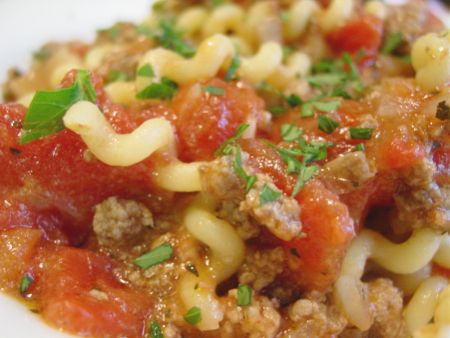 We usually make this with chopped beef, yellow onions, and a pureed tomato sauce. We deviate tonight into more of a marinara recipe with the beef coming from some extra hamburgers in our fridge that did not get cooked.
Ingredients
We start by putting water in a large pot and heating it over medium heat. Next, in our dutch oven, we warm the olive oil over medium-low heat. We add the onions and saute until translucent for about 5 minutes. In the meantime, we mince the garlic with a little salt. When the onions are ready, we crumble in the two hamburgers with our hands and cook over medium heat for another 5 minutes. We add salt and pepper, stir often, and cook until there is no longer any pink. Sometimes we drain the meat on a paper-towel lined plate to remove excess oil, but we do not bother tonight. We add the minced garlic and cook for another minute.
We add the tomatoes and chop coarsely in the pan with our wooden spoon. We add the bay leaf, basil, parsley stems, and salt and pepper. We allow it to simmer for 10 minutes, over medium-low heat, partially covered.
The water has come to a boil so we salt it lightly and add the fusilli pasta. We stir and cook the pasta for about 12 minutes. We remove the bay leaf and parsley stems from the dutch oven and continue cooking the sauce at a simmer.
When the pasta is done to our liking, we drain it in a colander, and add it to the dutch oven. We scoop the pasta into bowls, top with some more sauce from the bottom of the pot and add the chopped parsley, red pepper flakes, and cheese.